TOILET SEAT ALA SUSPENDED IDEAL STANDARD MINK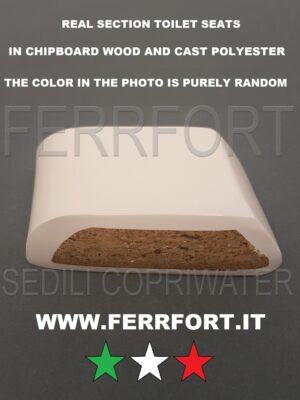 Our toilet seats are made entirely in ITALY and faithfully in the original colors of the ceramic houses.
The correct color display varies depending on the device.
If you have any doubts we are at your disposal by calling the number +390255019193, the same number WhatsApp 0255019193 for photos and messages or check out our color chart or our guide for a proper purchase.
Toilet seat model ALA SUSPENDED IDEAL STANDARD MINK cast in thickness, made with a wooden core (NOT IN MDF) worked to measure, covered with polyester resin.
Hinges in stainless steel (NOT IN ZAMA).
Our product is still handcrafted today, with the highest quality materials to maintain the traditional and quality standard that has distinguished us for years …
Once the polyester casting hardening process has been reached, the product acquires a stable consistency in order to ensure excellent resistance to chemical agents and high hardness in the ability to absorb shocks and excessive weight.
Subsequently the product passes other fundamental manual processes of sanding, polishing and cleaning.
To finalize the product, we proceed with the application of polyethylene bumpers, stainless steel hinges and appropriate fixings, all packaged inside the customized box.
BRAND CERAMIC: IDEAL STANDARD
COLOR: MINK (as the original color of the ceramics)
MODEL: ALA SUSPENDED
SIZES IN cm (SEE TABLE MEASURES) : X=37,00 Y=43,00/49,00 Z=11,00/23,00
If you are in trouble, we can help you with the GUIDE FOR THE RECOGNITION OF THE TOILET SEAT that you can download from HERE.